UPDATE
Auf TVSongs.de gibt es ab sofort die neue Rubrik TV-Serien. Dort befinden sich von nun auch alle Lieder der Serie Marienhof: Lieder aus der Daily-Soap Marienhof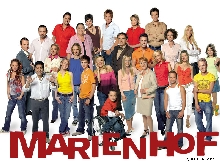 Ich habe mir eben gemeinsam mit meiner Freundin die heutige Folge von Marienhof angeschaut. Dort wurde ein Lied gleich mehrmals gespielt, dass mir bekannt ist. Für einen ganzen Artikel habe ich momentan leider nicht die Zeit, jedoch fand ich es schade den Song nicht zu erwähnen, weil sicherlich nach ihm gesucht wird. Aus diesem Grund führe ich mit diesem Beitrag die Quickies ein, in denen ich künftig neben der Nennung des Titels, nur wenige Sätze verliere.
In der heutigen Marienhof Folge (3479) am 23.12.2008 konnte man 9 Crimes vom irischen Musiker Damien Rice hören. Darin singt er gemeinsam mit Lisa Hannigan am Piano dieses ruhige Lied. Ich selber durfte ihn und die Darbietung dieses Lieds vor knapp 2 Jahren live in Köln sehen.
Damien Rice – 9 Crimes:
Is That Alright?
I Give My Gun Away When It's Loaded
Is That Alright?
If You Dont Shoot It, How Am I Supposed To Hold It
Is That Alright?
---
Diesen Song als MP3:
Tipp! Sämtliche Songs suchen und downloaden mit der MusicMonster.FM Flat: