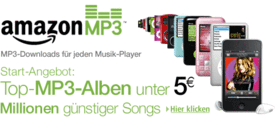 Juhu! Amazon verschenkt mal wieder einige MP3s!


Bei meinem heutigen Streifzug im Internet bin ich auf die Label des Monats Aktion von Amazon gestoßen. Diesen Monat hat das deutsche Label Grand Hotel van Cleef die Gelegenheit sich einem (noch) größeren Publikum zu präsentieren. Zehn Titel von jeweils unterschiedlichen Künstlern der Plattenfirma wurden zu einer Compilation zusammengestellt. Und diese Zusammenstellung lässt sich nun gratis auf der Webseite von Amazon runterladen. Vorraussetzung dafür ist der Amazon-MP3-Downloader.
Snapshot: A Grand Hotel van Cleef Compilation Tracklist
1. Tomte – schreit den Namen meiner Mutter
2. Olli Schulz & Der Hund Marie – der Moment
3. Hansen Band – Baby Melancholie
4. Ola Podrida - Cindy
5. Der Hund Marie – stellt mich auf die Beine
6. Home Of The Lame – Rooftops
7. Bernd Begemann & Die Befreiung – ich hab nichts erreicht außer dir
8. Maritime – For Science Fiction
9. Kettcar - ich danke der Academy
10. The Pale – you wanna be so good

Snapshot: A Grand Hotel van Cleef Compilation Download
Im vergangenen Monat war Domino Records das Label des Monats. Auch bei dieser Plattenfirma, die unter anderem die Arctic Monkeys unter Vertrag hat und die Musikrechte von Elliott Smith verwaltet, war die Aktion die gleiche. Einige tolle Bands dieses Labels, mit jeweils einem Titel, fanden sich auf dieser gratis Compilation wieder. Ich schreibe dies, da der der Download scheinbar noch aktiv ist. Doch lange mit einem Download zögern würde ich an eurer Stelle nicht…
Snapshot: A Domino Compilation Tracklist
1. Franz Ferdinand – Send Him Away
2. The Kills – U.R.A. Fever
3. Cass McCombs feat. Karen Black – Dreams-Come-True-Girl
4. Wild Beasts – Two Dancers
5. Owen Pallett – Lewis Takes Action
6. Archie Bronson Outfit – Shark's Tooth
7. These New Puritans – Orion
8. Quasi – Laissez Les Bon Temps Rouller
9. Tricky Meets South Rakkas Crew – Joseph
10. To Rococo Rot – Working Against Time
11. Malachai – Snowflake
12. She & Him – In The Sun

Snapshot: A Domino Compilation Download
The Rebeatles Project
Neben diesen beiden gratis Compilations haben ich noch eine weitere gratis MP3 bei Amazon entdeckt. Gefunden haben ich einen Titel des Musikprojekt The Rebeatles Project. Ich zitiere den Pressetext:
Pop goes beat – Die Songs von Lady Gaga, Christina Aguilera, P!nk und Co. im Sound der Swinging Sixties. Nachdem Adoro den Pop zur Klassik und The Baseballs ihn zum Rock 'n' Roll brachten, nehmen sich The ReBeatles Project die Sixties vor und bringen die Popmusik wieder zu ihren Ursprüngen zurück.
Eine Coverband, die aktuelle Popsongs wie alte Beatles Titel klingen lässt. Das Konzept hat mit The Baseballs und Adoro bereits gut funktioniert und sollte wohl auch hier erfolgreich sein. Zu Promotionszwecken (das Album erscheint am 14.05.) wurde nun diese MP3 gratis in die Menge geworfen. Nötig hat es die Gruppe, die bei Sony unter Vertrags steht, zu habe: Die Facebook Seite hat gerade mal 125 Fans und die MySpace Page 1137 Profilaufrufe (und keine Musik zum abspielen – wie nutzlos bitte???).
Die gratis MP3 (I Gotta Feeling von den Black Eyed Peas) geht mir aber gut ins Ohr. In das Album werde ich sicherlich auch mal reinhören.
Via: Early-adopter.info
---