AKTUELL
In etwa drei Stunden läuft die Aktion aus. Wer noch zuschlagen möchte, sollte sich beeilen!
Amazon hat mit der Fernsehzeitschrift TV Movie gerade einen Werbedeal laufen, bei dem es auf insgesamt 175 verschiedene MP3-Alben einen Rabatt von 50 % gibt. Jedoch kann an dieser Aktion jeder nur ein Mal teilnehmen.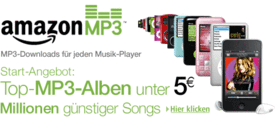 Wählen Sie aus über 100 Top MP3-Alben Ihr Lieblingsalbum aus. Mit diesem Gutscheincode erhalten Sie einen Rabatt von 50% auf Ihr Lieblingsalbum.

Gutscheincode: 5OMP3TVM

Den Gutscheincode können Sie für eine Bestellung einer der in dieser Liste dargestellten MP3-Alben einlösen. Pro Kunde kann der Gutschein nur einmal eingelöst werden.

Diese Aktion läuft bis zum 17. Mai 2009.

Die Preise belaufen sich meist zwischen € 4,89 und € 6,62 pro Album. Das heißt, dass man einige Downloads bereits für 2,45 Euro erhält.
Die insgesamt 175 Alben kommen aus den unterschiedlichsten Genres. Es gibt neuere (z.B. Britney Spears – Circus
oder Kings of Leon – Only By The Night
), deutsche (z.B. MIA. – Stille Post
oder Claudia Koreck – Barfuass Um Die Welt
), ältere (Miles Davis – Milestones
oder Johnny Cash – At Folsom Prison
) und auch echt starke (Fatboy Slim – You've Come A Long Way, Baby
) Platten zur Auswahl.
Daneben gibt es auch einige Compliations, die vermutlich, bis auf den tollen Soundtrack vom Film Garden State
, aber kaum auf Interesse bei euch stoßen werden.
50 % Rabatt auf ausgewählte Alben bei Amazon MP3
Wer hier immer noch nichts für sich gefunden hat, kann noch Mal in meine
ausgesuchten Amazon MP3 Schnäppchen
mit Preisen ab 0,03 Cent pro Musiktitel reingucken.
(Via)
---